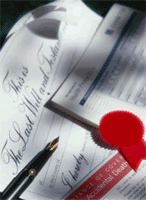 Unless you are lucky enough to find an old will amongst your family papers, your best chance of discovering one is among the records kept by the courts during the process of obtaining probate. These records go back to the fourteenth century: although the earliest ones are for wealthy people, they may give you the opportunity to go back a long way and to find out more about people's lives, families, worries and livelihoods. If you find a will, it can give you valuable detail about your family. This can help to fill gaps in your know ledge and open up fresh lines of research. Wills also give a deeper insight into family relationships and possessions than you can get from 'official' records.
Because there is the chance of going back a good way, and because wills change over time, you need to understand a bit about the background. Wills, in theory, had to be proved valid and probate granted by a court before any bequests could be paid. Before a will could legally be acted upon, a judge had to rule that it contained the last wishes of the deceased concerning the inheritance of his or her property and that those wishes were lawful. This process is called probate.
Searching for wills after 1858 is easy, as all wills in England and Wales were proved before a single court (with local branches), and a copy was kept in a central registry. They were well indexed, and the index has been published.